SEO, or Search Engine Optimization, is about just 2 things:
Getting more organic traffic to your company website(s).
Avoiding costly mistakes that can hurt organic traffic to your company website(s).
For the average website, somewhere between 30% and 90% of the website traffic comes from search engines. That's a lot of eggs in one basket.
What happens to the business if organic traffic tanks for some reason?
When 30-90% of a business's traffic or revenue comes from a single channel, that's a risky scenario. But it's 100x more risky if the people on your team don't understand that channel and how their work affects it.
Let me tell you a quick story...
I was brought in to work with a company who had recently done a complete website redesign. Since launching the new site 2 months prior, they had slowly but surely lost about 80% of their organic traffic. They had nobody internally who was well versed in SEO, and they had no idea what was going on or how to fix it.
The website was bleeding out, and they didn't have a medic. Their frantic Googling for a cure wasn't getting them anywhere. All they knew was this:
Enter me, stage left. I'm kind of like Dr.House, but for websites instead of people 😉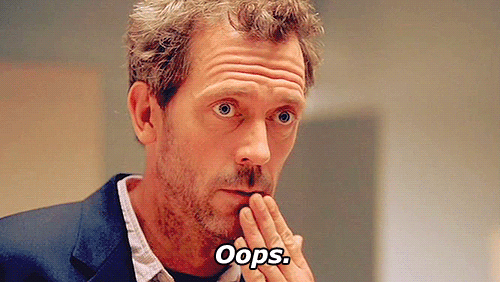 I got a call, they were freaking out, I assured them I could find and fix the problem, and quoted them my fee. It wasn't cheap, but they were losing millions of dollars, so in the end it was a bargain.
And...it took me all of 5 minutes to solve the problem and reverse the trend that had stumped their in-house devs and marketing team for a month.
Here's the thing. Had anyone on their team gone through this training, ANYONE, they could have solved the problem just as quickly. They could have avoided losing millions of dollars to a simple mistake that someone with a tiny bit of SEO training could have caught.
As frustrating as the situation was, this story had a happy ending.
But many don't.
I've seen numerous companies, both large and small, fold because Google made a few tweaks to their algorithm and nobody at the company understood SEO well enough to both plan for the future and mitigate the risks.
Don't be like those companies!

This course is designed from the ground up to teach your employees A. how to get you more traffic, and B. how to not ruin your business.

More reward, less risk. Win-Win.
So, 3 questions:
1. Is organic traffic important to your business?

2. Would you like to have more organic traffic to your business?
3. Do believe everyone in your business whose work directly affects the website should at least understand the basics of SEO?
If yes to all of the above, then you might be thinking...
;)
Now, the question I usually get at this point is: Who on our team should go through this training?
The simple answer is anyone whose work can impact organic traffic.
Here are a few roles that typically benefit:
If someone's job impacts your website or sources of traffic to that site, then they need at least a basic understanding of SEO so they can maximize their positive impact and minimize their negative impact on the SEO front.
Are you ready for your team to learn SEO? Here's what they get:
1. The best SEO training course available, period. I built the SEO course I wish I'd had when I first started, and I've worked hard to explain search engine optimization in a way that absolutely anyone can understand. Simplifying complex topics is my superpower.
2. Access to a variety of templates and processes to help you and your team through your SEO journey, as well as extensive links to tools, articles, and additional resources to help everyone learn SEO from end-to-end. I'll be adding and updating material as things change in the SEO world.
3. Each new module is built upon the info from the prior module, so viewing order is enforced for optimum retention. Upon finishing the SEO course, each attendee will be issued a certificate of completion.

4. Every paid seat license also includes unlimited Q&A access to me via email for 30 days. If attendees have any questions about the course material, or how it applies to their projects, I'm here to help! Considering what I charge for consulting, this alone makes it worth it.
So who am I, and why should you learn from me?