SEO, or Search Engine Optimization, is the art of helping website owners to get more visitors from search engines.
In 2020, Microsoft named SEO the #1 most in-demand hard skill.
SEO is in high demand, it pays VERY well, and you can do it from anywhere with a laptop and an internet connection. It may well be the most remote friendly occupation out there...no hands to shake, no viruses to spread ;)
In this 13 module SEO course, I'll teach you everything you need to know to get started in the world of SEO.
But what makes this SEO course so special? How is this different from every other course out there??
Neuroscience - A lot is known about human attention span and how to optimize focus and learning, and this course integrates these findings into its structure. Almost all videos are less than 10 minutes long (the maximum length you should aim for to maintain attention).
Psychology - People learn best when they want to learn a subject, not

when someone is forcing them to. I treat you like an adult, assume you're genuinely here to learn, and don't include things like quizzes or enforced viewing order. You're an adult, and I treat you like one.



Experience - There are only a small handful of people in the world with my level of SEO experience, and I'll be guiding you and helping you learn SEO every step of the way. I've personally managed SEO work on over 400 websites, including many of the Fortune 500 and multiple sites with many billions

of pages, complicated ecommerce infrastructure, and tens of millions of dollars in marketing budgets.



Strategy AND Tactics - Too many SEO courses focus only on tactics, but without the necessary first principles and strategy frameworks in place, you can't know when and which tactics are the right ones to apply.
While that may sound complex, I put a LOT of effort into making things as simple as possible...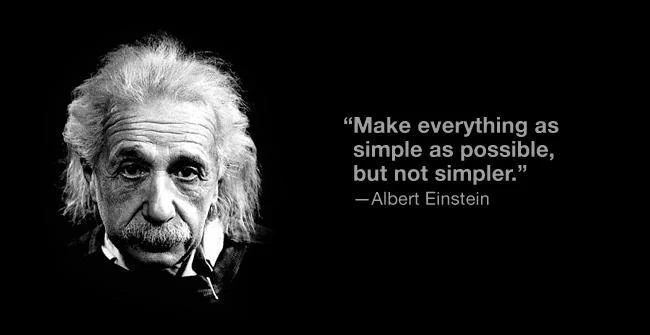 The key is to simplify the concepts, without losing any of the important bits...and that's what I've done here ;)
Now, the SEO industry is worth an estimated $72 BILLION dollars per year, and the industry is growing roughly 5-10% per year. Over 1,000,000 people worldwide work in SEO in some capacity, but...
There are roughly 30 million businesses JUST IN THE USA, 200 million business worldwide, and 644 million active websites...and just 1 to 2 million SEOs to service those.
Clearly we need more people who know SEO!
The low-end hourly rate for a half-decent English speaking SEO freelancer is $50-$75/hr (yes, really, go look on UpWork), and the industry averages are much higher. Check out this data from my buddy John over at GetCredo.com: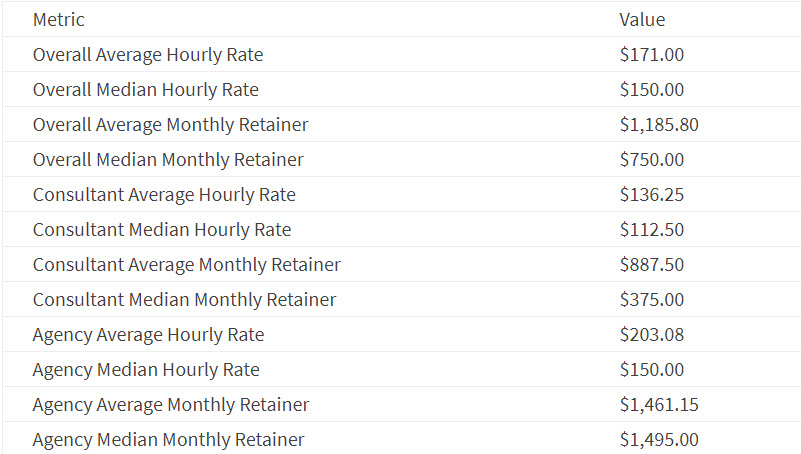 John is very well known in the SEO space, and he polled a TON of freelancers, consultants and agencies to see what they're charging. These numbers aren't outliers...these are SEO industry norms.
$136.25/hr average for consultants...if you're billing 40 hours a week, that's over $275,000/yr.
When I started in the SEO space, I charged $50/hr, and nobody EVER so much as blinked at that price. I quickly learned I was undercharging, as most new freelancers do.
Whoops!
Now I routinely charge $250+ per hour (sometimes as high as $500-$1,000/hr for certain tricky projects), and still, nobody ever complains about pricing. They pay it, gladly. Why?
Because the value you can add to a business as an SEO can improve their revenue so much that it's worth the cost to them, and they know it.
In fact, I had one client where my work with them over a 2 year period added $70,000,000 in additional revenue. I made $5k/mo from them, and probably should have charged more. ¯\_(ツ)_/¯
Their ROI on that project was insane :) How's that for high impact?
Even better, SEO is still one of those things you can't really learn in college or even at a trade school.
You still, for the most part, have to learn online and by trial and error, hands on, which means that nobody cares what school you went to or what you studied in college...all they care is that you understand SEO and can show some sort of track record.
So, to sum all of that up:
You have a $72 billion dollar industry that is growing like hotcakes
A total noob can charge $50-$75/hr, easily, and that number rises rapidly with experience
For every 1 SEO practitioner, there are ~200 companies and ~644 websites out there
It doesn't require a college degree, just knowledge
Oh, and did I mention that you can do this from anywhere as long as you have a laptop and internet? (I've traveled the world non-stop for the last 4 years with my family, working from my laptop, and the business just keeps rolling in.)
Are you ready to learn SEO? Here's what you're about to get:
1. The best SEO training course available, period. I built the SEO course I wish I'd had when I first started, and I've worked hard to explain search engine optimization in a way that anyone can understand. This is SEO from first principles...not just the what, but the underlying WHY behind every facet of SEO.
2. Access to a variety of templates and processes to help you in your SEO journey, as well as extensive links to tools, articles, and additional resources to help you learn SEO from end-to-end. I'll be adding more from time-to-time.
So who am I, and why should you learn from me?